All-in-one sourcing service
Get a full assistance for all your projects in China. Our Sourcing Service is totally transparent (we give you all the factories contacts and you can visit the factories). This service was built by Asiaction experts thanks to more than 10 years of experience and it is performed by trained agents in our Guangzhou office. We act as your purchasing office in China and we are entirely commited to work in your interests (we do not, and never will, accept any kickback from factories).
Receive full reports at key steps of your projects in China and get an exclusive access to the Asiaction Dashboard.
Full Sourcing process Overview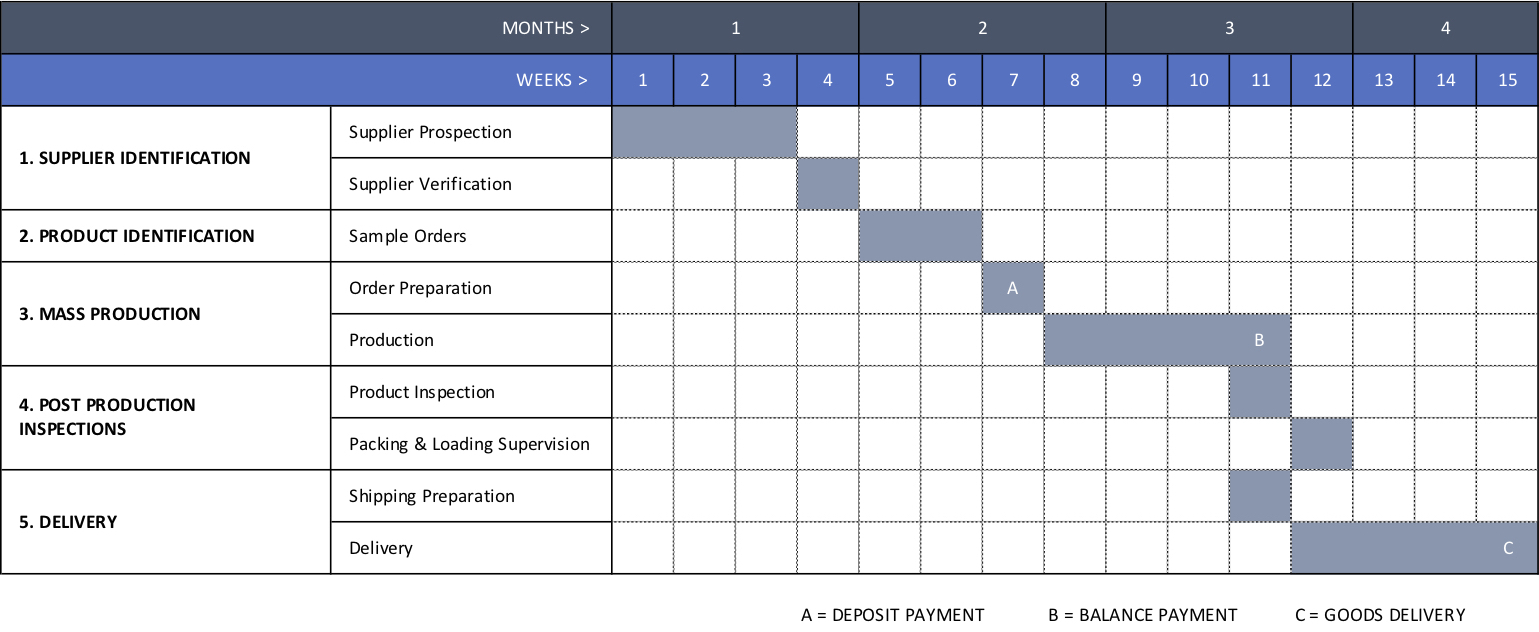 Considering your project and your sourcing requirements, our purchasing team, coordinated by your project manager, conducts a sourcing study in order to select the best effective solution to purchase the products you need.
Because each market, each project and each brand has its own requirements, you must rely on experts to find reliable factories in China. Based on our experience and our knowledge, we are able to find the most suitable factories in China for each specific case: finishing quality, product range, material quality, expected delivery time, product certifications, price range, etc. to help you buy directly from manufacturers in China.
1/ Supplier Prospection = 1 to 4 weeks
Analysis of your project and requirements,
Search for suppliers through all our networks,
Selection based on the suppliers prices,
Gathering of all the suppliers documents.
2/ Supplier Verification = 1 week
Audit factory,
Verification of certifications,
Review of the suppliers' online reputation,
Full PDF with all details and documents.
3.1/ Sample Orders (optional) = 1 to 3 weeks
Review the products requirements,
Sample orders from factories,
Control of the quality in our office,
Full PDF report,
Delivery of samples to clients.
3.2/ Prototyping (optional) = 2 to 6 weeks
Analysis of your project,
Set up with the selected factories,
Development of a testing plan,
Assembly of prototypes in the factory or in our office,
Tests,
Full PDF report,
Delivery of prototypes to clients.
3.3/ Laboratory Tests (optional) = 1 to 3 weeks
Sample pick up at the factory,
Review of the products and tests to perform,
Validation of the requirements with the selected laboratory,
Verification of the laboratory's sample reports,
Delivery of the final report to clients.
Your Asiaction project manager settles an agreement (detailed proforma invoice and sales contract) with you to make sure that all requirements are understood and accepted by all parties. Our purchasing team handles all the order management in China and follow up tasks with the factories and the shipping company.
You can follow the production and shipping schedules on the Asiaction Dashboard. You receive status & schedule updates by automatic emails. At the same time, your Asiaction project manager remains available for any question. You can check and download quality inspection reports, shipping documents such as Telex Release and packing lists and all invoices on the Asiaction Dashboard.
Our service starts when you ask for a quotation and continues after you receive the goods. If you have any claim, our sales team remain at your disposal to take care of any after sales issue.
1/ Order Preparation = 1 to 2 weeks
Planification of your supply chain strategy,
Finalisation of purchasing conditions with suppliers,
Payment of the deposit.
2/ Production Follow Up = 1 to 12 weeks
Start and finish dates,
Risk prevention and issue management,
Factory visits if necessary,
Notifications to clients.
3/ Quality Control = 2 to 4 days
Preparation of the inspection,
Inspection in the factory by an Asiaction inspector,
Full PDF report sent to client.
4/ Packing & Loading Supervision = 1 to 2 days
Verification of the packing,
Random pick up of cartons for visual product check,
Verification of quantities loaded in the container,
Full PDF report sent to client.
From the shipping set up to the delivery at your warehouse, our team assists you to provide a smooth operation. We take care of all the paperwork to export your order from China and to import it into your country.
We send you the best shipping quotations according to a wide array of conditions: your desired schedule, your budget, the merchandise volume, the number of containers, the number of factories, the packing of the goods, the incoterms, the necessary tests and certificates. You receive quotations from internationally established forwarders. Our documents include all the fees in China, for the freight and at destination. No hidden fees. No kickback. Our quotation includes all the fees for a door-to-door delivery. You just pay the VAT and the import tax to our partner at destination when you receive the goods.
Once the shipping plan is set, our team enters your shipment schedule into our advanced tracking system. The schedule includes major project events: End of production date, container loading date at factory, cut off date, loading on cargo ship date, ETD, ETA at destination port, ETA at your warehouse.
Our system displays your shipment schedule on the Asiaction Dashboard. Before any event occurs, we send out automatic email reminders for you to prepare the reception of the goods. Our emails also include advices on how to enforce these actions.
A real and accurate monitoring of your shipments including:
Emails at key moments of the shipment,
Reminders before ETD and ETA at destination port,
Notifications regarding the delivery at your warehouse,
Advice on documents to prepare for the importation,
Warnings when shipping companies change dates.
We can work with all types of goods and we are able to ship everywhere in the world.
Our team is able to manage simple and complex shipments, such as:
consolidation: group orders from different factories into one container,
split orders from different factories into multiple containers,
store your goods in a bonded warehouse and ship them separately at different times and/or places.
1/ Shipment Preparation = 2 to 7 days
Planification of the shipping methods,
Selection of the best offer,
Booking of the containers and of the cargo space,
Preparation of all necessary documents.
2/ Shipment Follow Up = 1 to 6 weeks
ETD and ETA dates,
Notifications if any change.
3/ Delivery at destination = 1 to 5 days
Notifications to clients before delivery at destination,
Preparation of delivery with a local partner (import tax, VAT, necessary documentation),
Delivery to client's warehouse.
Frequently asked questions
Every inspection is performed by a number of persons over a number of days. Most inspections are made by one man within one day, that's 1 man-day. However, it is possible that some inspections require more people and/or more time. For example, we could send 2 inspectors to perform an inspection within 1 day, that's 2 man-day.
Examples:
1 inspector on 1 day = 1 man-day
2 inspectors on 1 day = 2 man-day
1 inspector on 3 days = 3 man-day
2 inspectors on 2 days = 4 man-day
WHy do you check the Quantities?
In some cases, the manufacturer may forget or purposely produce different quantities in total or per model.
Unless specified otherwise, we do not inspect 100% of the production. We choose a number of products randomly, based on the AQL standard. All the inspections carried out by the Asiaction product inspection team follow the process defined by the international standard ISO 2859-1 (ANSI / ASQC Z1.4-2003).
Learn more on AQL standards here
What product specifications do you check?
We check the product specifications that you agreed on with the factory. We also check the industry specifications.
Products can be of the wrong color, the wrong material, the wrong dimensions.
What are considered defects?
Defects are the result of a bad workmanship, a bad production process. They can be scratches, broken parts or bad finishing. Defects are also the result of tests that inspector operate to check the general requirements for a specific kind of product. For example, the loading capacity of a chair or the painting resistance. Defects can also appear from the special tests you asks us to conduct.
Why do you inspect the packing & marking?
As packing can be a specific requirement of yours, it is also an important aspect of safety of the product. During shipping, especially when using courrier, weak cartons and inappropriate packing will not protect the goods. Goods can be damaged before reaching the final consumer.
Marking is about checking logos, product labels and stickers. Not only aesthetics, marking is often required by national regulations.