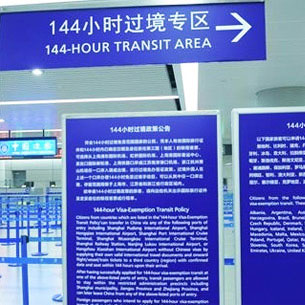 On May 1st, Guangdong has extended its visa-free transit stay to 144 hours, that's 6 days!
Passengers from 53 countries or regions transiting through Guangdong to a third country or region can now easily apply for a few days stay at their arrival. Tourists eligible for the 144-hour visa-free transit in Guangdong will be able to travel within the whole province for 6 days without applying for a visa, and the stay duration will be counted from 00:00 the day after the entry date. You are also allowed to conduct business in Guangdong.
Travellers will just need 3 documents: a ticket out of the country, a valid passport, and a filled-out arrival card (similar to normal ones). People must enter through one of three airports: Baiyun International Airport, Shenzhen Bao'an International Airport, Jieyang Chaoshan Airport. They then can exit the country out of the many ports in Guangdong. The exit out of China needs a ticket on a train, ship, plane, or bus.
Be aware:
You can't just walk out of China into Hong Kong from the Shenzhen train station.
You are not allowed to go to other provinces.
Countries covered by the policy
24 Schengen Agreement Countries:
Austria, Belgium, Czech Republic, Denmark, Estonia, Finland, France, Germany, Greece, Hungary, Iceland, Italy, Latvia, Lithuania, Luxembourg, Malta, Netherlands, Poland, Portugal, Slovakia, Slovenia, Spain, Sweden, Switzerland.
15 Other European Countries:
Russia, the United Kingdom, Ireland, Cyprus, Bulgaria, Romania, Ukraine, Serbia, Croatia, Bosnia-Herzegovina, Montenegro, Macedonia (FYROM), Albania, Belarus, Monaco.
The United States, Canada, Brazil, Mexico, Argentina, Chile.
Korea, Japan, Singapore, Brunei, United Arab Emirates, Qatar.
Country A → B: Guangdong → Country C
This is a transit visa. It means that it is only allowed to travellers using China as a layover.
Here A refers to the country from which passengers enter Guangdong, and C refers to a third country or region. Before passengers' entry to Guangdong and after passengers' leave from Guangdong, they cannot have a stop anywhere in Mainland China. For example, if a passenger departs from UK to Guangzhou, with a stop in Shanghai, he cannot use the 144-hour visa-free transit.
Requirements & Procedures for Application
Required documents:
Passport/Travel Document valid for at least 3 months from the date of entry
Confirmed onward ticket to a third country/region
Visa for a third country/region (if needed)
A fully completed Arrival/Departure Card (including name, nationality, passport no., visa no. & issuance place, flight no., purpose of visit, date of birth, gender)
In Guangdong, only 3 airports can issue the 144 hour free transit, and they are Guangzhou Baiyun Airport, Shenzhen Bao'an Airport, as well as Jieyang Chaoshan Airport, so the passengers who want to apply for this policy need to enter Guangdong from the 3 ports. But they are allowed to leave from any port in Guangdong.
Are you coming to Guangdong?
We can arrange a welcome team at the airport, transportation to your hotel and to the factories.
Just let us know when you land and we'll take care of the rest!